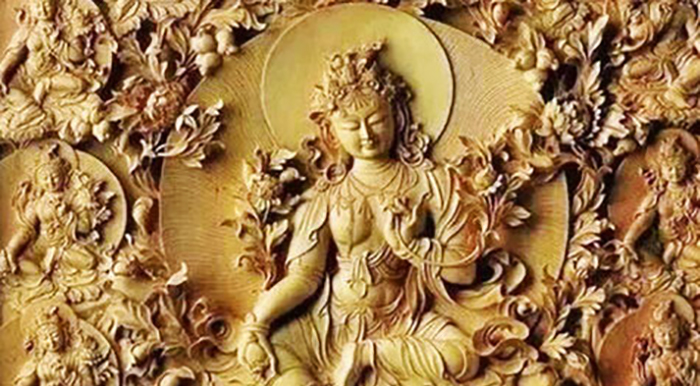 ----Wood carving in Basteri, Sangla, Kinnaur Valley---

ARRIVE IN NEW DELHI INDIA INTERNATIONAL AIRPORT:
If DELHI is HOT: Fly to Srinagar or Shimla! in the summer. OR take a Train to Chandigarh on your way up to Shimla. OR visit Srinagar first and then fly direct to Shimla.
SHIMLA KINNAUR SANGLA KALPA SPITI. TABO GOMPA KYE
---------------------------------------
After clearing immigration and entering India, pick up your bag and exit onto the street. You can cross the street and turn right, walk half a block, to the 'Red Fox Hotel' in aerocity. If you have a reservation you can call and they will send a man to meet you, help you with your luggage and walk you to the hotel entrance! Wonderful hotel. Nice restaurant in lobby, helpful staff. Pool available.
Himalayas advice: it is imperative for women to dress very modestly when visiting Srinagar and the Kinnaur Valley. You will be happier if you concede to the local culture in your dressing ie. loose and total covering, nothing exposed.
DELHI-CHANDIGARH TRAIN or PLANE - TOY TRAIN TO SHIMLA
----------------
----------------------
SHIMLA altitude 7,470 feet
You can spend a few days visiting Hindu Temples, wandering the Mall and enjoying the relative coolness, to the rest of India. Shimlas' many monkeys are fed at the temple. Give them plenty of room, they will stay on 'their side' of the road unless you pay attention to them!
India of the mid-1800s, and Lord Dalhousie has been appointed as Governor-General of India. He introduces India to its first railway, lays out its first telegraph line, establishes its postal system and starts the Public Works Department. Amidst all this reformation, he anoints Simla as the Summer Capital of the East India Company.
The train from Delhi to Chandigarh is about 4 hours. Chandigarh Hotel RED APPLE is near main train station. Phone: +91 9914750001 Email: info@redapplehotels.com
Next morning Take a taxi to Kalka station. It is, by far, more pleasant to take the toy train from Kalka to Shimla than to drive up. Kalka Shimla Trains: Pass Ng (52457), Rail Motor Ng (72451), Shivalk Dalimgaon Exp Ng (52451), Kalka Simla Exp Ng (52453), and Himalyan Queen Ng (52455) run all 7 days of the week.
Spend a few nights in Shimla. It is best to go up the Himalayan Valleys in altitude slowly, a few nights or more at each higher step. Clarks Hotel 91-177-2651010-13 is a good choice on the Mall reservations.clarkes@clarkesshimla.com.
SHIMLA HINDU TEMPLES: Jakhu temple Hanuman.. one of the most famous temples in Shimla is at a distance of about 2kms from Shimla, on the highest peak of Shimla. Also, Hanuman Temple is situated in the holy land of temples, Shoghi. The hanuman statue inside the temple stands 108 ft tall. .. Tara Devi Temple Goddess Tara. Both offer a beautiful view of the himalayas. .. The Hatu Mata Temple 'Where Pandavas cooked meals' is located at the second highest peaks of Shimla, and is a wonderful place to visit. .. Kali Bari Temple 1845. Kali (Shyalaya) hence Shimla got name). .. Bhimkali Temple Holiest of Hindu pilgrimage, The unique thing about this temple is that the style of architecture used to build it is a unique amalgamation of both Hinduism and Buddhism. It is built of wood and is no less than an architectural masterpiece. facing Himalayas in back, breathtaking view. .. Sankat Mochan Temple is the temple for Lord Rama, Lord Shiva and Hanuman. There are many old temples in the compound. This Shimla temple was built in the year 1950 and is on the highway to Kalka. as is the Tara Devi Temple .. Dhingu Devi Mandir houses Goddess Durga and is situated just beneath the Jakhu Hill. The famous temple in Shimla acts as a viewpoint for Shimla Town, lots of stairs... Mahunag Temple is among the must-visit temples in Shimla. The temple is placed right in between forest and mountain, in a small place named Mahunag. The site is famous for its annual fair held in May.
BUDDHIST MONASTERIES: Dorje Drak Monastery is beautiful and peaceful... Jonang Takten Phuntsok Choeling Buddhist Monastery in Sanjauli, Shimla. A very small, modest monastery of only around one hundred monks
CHRIST CHURCH & ST. MICHAELS'S CATHEDRAL, near the ridge, is the second oldest church in Northern India. Presbyterian Services are conducted in Hindi and English.
JAIN MANDIR: Mall Road.
Local Shimla Taxi Service +91 98165 66772
--------------------------
You can Hire a Car and driver or take a bus from Shimla to Recong Peo. The road (8 hr drive, Rampur is midpoint) is alongside the Sutleg River and is an easy and well maintained road. Consider visiting Sangla before Kalpa. Kalpa is 1,000 ft higher than Sangla
----------------------------------------------------------
KINNAURI VALLEY: The snow starts to melt early May and the closed roads within Kinnaur Valley start to open up to welcome tourists.
There is a tourist rush from May to June... up to early July. Once you get into the last week of July, monsoon lashes Northern parts of India. The road journey to Kinnaur becomes problematic. Monsoon is one of the worst times to visit lower hills in the Himalayas, Can be dangerous. (It's much safer in Srinagar in July!).
Shimla  ........7,467 feet
Rampur Bushan ..3,349 feet
Sangla ......... 8,900 feet
Rakcham .......9,500 feet
Recong Peo.....7,513 feet
Kalpa ............9,740 feet
Chango ..... ...10,032 feet
Tabo  ........... 10,761 feet  'breathing easy up to here!'
-------------------------------------------------
Pin Valley  3,500 M
Dankar  3,894 M ... day trip only. from Kaza.
Kaza  3,800 M ...11,998 feet
Ki (Kye) Gompa ... day trip only, from Kaza.
HIMALAYAN VALLEYS INDIAS CLEANEST AIR
-----Highly recommended, Experienced, Reliable Taxis for Kinnaur and Spiti: ----------
Saleem
9805211177 / 8988087436. Drives an Innova with bucket seats. An awesome driver has very good knowledge of Spiti and Kinnaur valley and more than 18 years of driving experience in
Himachal Pradesh
.
Car Numbers: HP 01 A 4461.
Arun Negi: Arun is the brother of Arvind and hails from Recong Peo. Very safe and humble driver. He sometimes takes bookings for Arvind too and but mostly runs his own Innova Crysta. Car Number: HP 01 A 6953.
Sunnyhails from Shimla, and drives his own Scorpio now. Very highly recommended by DoW members. Contact number:
Dilip: based in Kalpa, runs a Scorpio, and is a very very nice down-to-earth driver. Recommended from DoW members. Can refer DoW to him.
Arvind Negifrom Reckong Peo He is a very good driver. Very highly recommended by DoW members. He drives a Scorpio and Innova Crysta, very highly recommended.
Chhewang Dorjey: Based in Kaza, owns a Sumo Spacio. He can come to pick you up from Shimla and don't charge for it. An excellent driver, patient calm, and composed. Do not get irritated with many breaks and he was with me on my White Spiti Valley trip in March 2014. Highly recommended if the car suits you. Can refer DoW to him.
Tsering
Based in Kaza owns a Xylo
which his driver runs.
He is the most humble person on the planet you will ever find and for me, he is nothing less than family. We go long back, more than a decade when I first stayed at his home. You can check the rates with him and can even refer DevilOnWheels or my name, Dheeraj. He knows me very well. He runs
Hotel Sakya Abode
and a few more hotels too. I am mentioning him because you will not find any trustworthy or reliable person than him up in the Spiti Valley
One bus leaves Shimla around 11 AM. Once you reach Reckong Peo, you can travel to Kalpa, Sangla, and Chitkul by connecting buses within Kinnaur Valley. Hotel CK International is above the bus station, reservations@hotelckinternational.com9736112345 . Landline :- 0177-3511010
Reckong Peo is also connected by a daily morning bus from Kaza in Spiti Valley as well. So, you can travel from Spiti to Kinnaur as well by public transport.
-----------------------------
The mid point between Shimla and Recong Peo is Rampur Bushahr. Hotel Bushewar Regency HPDTC
+91 1782 234 103
. There are many nice hotels, if you want to spend a night halfway, since it is an 8 hour drive from Shimla to Sangla or Recong Peo (If using bus, you must change buses up to Sangla just before Peo). Sarahan is halfway as well, if that interests you. A few nights in Sangla help acclimatize before going up to Kalpa.
ARRIVE IN SANGLA: CLEANEST AIR STARTS HERE ! altitude 8,530 ft. The main Kamru fort is around 1400yrs old. On the main gate, is a massive beautiful statue of Lord Buddha. At the top of the fort, there is a Kamakhya Devi Idol. It was built by a king of the Bushahr dynasty. Kamru village used to be the capital of the erstwhile Bushahr dynasty. Try Hotel Royal Castle royalcastlesangla@gmail.com, nearest to Kamru Fort. Hotel Prakash Regency 91 82194 83370 / 01786-242222+91 98162 83268 (M.D.).. info@prakashregency.com... Mahima Hotel is near bus stand in Sangla. The are a few shops selling woolen clothing in Sangla. Known for their intricate geometric designs, objects of religious importance are weaved on Kinnauri shawls with colours of mythological origins. The colours used have a meaning with green signifying air, blue - ether, white - water, yellow standing for earth and red for fire. On average, it takes around 45 days to complete a single shawl
The Tibetann Wood Carving Centre Is situated near the Saffron Farm in Basteri vilage. Wood carvings in Tibetan style. The wood carving center is reached by passing through Batseri village. A nice place to buy handicrafts and hand made shawls. On your walk, visit the Badrinarayan Ji and Vishnu Narayan Ji temples.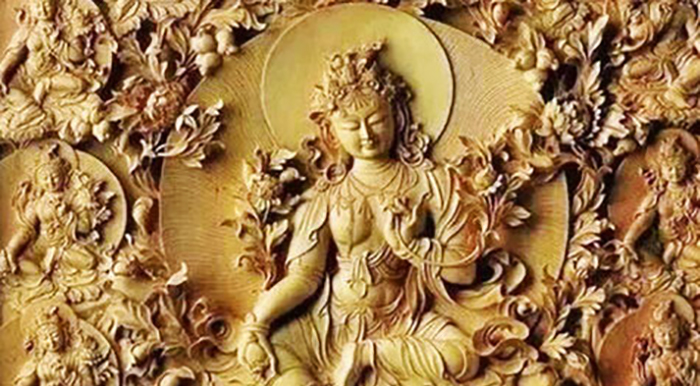 Batseri village is located on the left bank of Baspa River and can only be accessed by foot. The path that leads to this village is surrounded by stately deodar trees, one has to cross an exquisite spring that has a natural bridge of cantilevered logs over it. There are several nice hotels in Batseri.
Drive 1,000 ft. higher to Rakcham. When driving from Sangla to Chitkul, en route is a small scenic village of Rakcham located on banks of river Baspa and inhabited by 800 people who are mainly nomads. 'Zostel Homes Hotel' reservations@zostel.com looks very nice. Not many tourists visit this village, so if you want to feel the remoteness and want to be disconnected from the world, then Rakcham is a place for you. There is no access to internet or postal services here. Men look after the sheep and cows and women look after the farming and household chores. This village is located at an altitude of 9,500 feet and is on the left side of the road when driving from Sangla to Chitkul. Village has 2 temples dedicated to Lord Shiva and Goddess Kali. It is not a tourist hub, but a place to stop and appreciate the nature and its beautiful surroundings. There is an interesting trek from Sangla to Rakcham also.
The upper Sangla Valley is close to the border of Tibet/China, entry was restricted till 1993. Chitkul is the highest village and closest to the border. 11,320 feet.
--------------------------------
BACK DOWN TO THE RIVER VALLEY TO RECONG PEO AND UP TO KALPA: altitude 9,850 ft.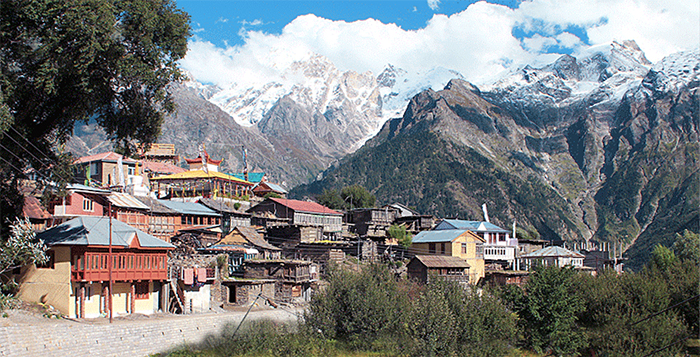 Kinnaur is a land seeped in mythology due to the inaccessibility of the region. Ancient Indian texts considered the mystical Kinners (people of Kinnaur) as supernatural beings, halfway between humans and gods. The Kinner Kailash range is purportedly the mythical winter abode of Lord Shiva. Kalpa ( once called Chini) is where the complete transition from Hindu Temples to Tibetan Buddhist Gompas begins.
There are many hotels in Kalpa with incredible views. Hotel Kalpa Deshang TC +91 98115 59496 looks kalpadeshang@gmail.com very nice. Find one that offers heat or an electric blanket! and not too many stairs. The town of Kalpa has several Hindu and Buddhist temples. Many forest trails can start right at your hotel. You can take a day trip by car to Roghi.
The road to Roghi, 8 km. from Kalpa, is a bit scary as there is a cliff, which hugs the one way road. The view is spectacular! The Roghi village is built on the slope of a mountain and is covered with apple, apricot, and chilgoza trees. Villagers are friendly and will show you around.
-------------------------------------
IN JUNE: It is possible to drive further up the Kinnaur Valley to the Spiti Valley. Visit Tabo Gompa. On the way, Chango has a nice little hotel and a lovely Buddhist Gompa. Check if you need a permit from an office in Recong Peo before starting up the Valley. You may have to stop and show the permit at the military check point before turning into the Spiti Valley. Altitude of Tabo Gompa is only 10,760 ft. It gets harder to breathe beyond and above Tabo.
-----------------------------
TABO GOMPA
The monks continue with their everyday chores in the world's oldest monastery. This is life here in Tabo, a miniscule village in the Spiti district of Himachal Pradesh. Its lakes and waterfalls freeze in the winters, whereas summers bring the entire landscape to life. And in both, there is equal beauty, meant to be savoured separately.
The Tabo monastery guest house is a great place to stay for budget travelers. It has a ten-bed dorm plus some individual rooms. However, there is no hot water. There are plenty of budget homestays in Tabo to stay.
Unless you are quite comfortable breathing at Tabo, you can turn back down the mountain now, back to Kinnauri Valley. Or continue up to Kaza, higher elevation, situated on the bank of the Spiti River at an altitude of about 12,500 ft. above sea level. Kye Gompa is above Kaza. A day trip to Dankar is easiest from Kaza.
--------------------------------------
PARTING FROM THE KINNAURI VALLEY
Leaving Kinnaur return down to Shimla for a night, then take the toy train back down to Chandigarh. (Do not be tempted to drive down from Shimla. Nauseating ride). You can drive to Haridwar and beyond.
YOU CAN FLY FROM SHIMLA TO SRINAGAR
MONSOON IN SRINAGAR IS IDEAL
You could drive from Chandigarh to Dehradun in 4 hours. From Dehradun you can work your way down to RIshikesh and Haridwar and back to Delhi.
Himalayas advice: it is imperative for women to dress very modestly when visiting Srinagar and the Kinnaur Valley. You will be happier if you concede to the local culture in your dressing ie. loose and total covering, nothing exposed.
--------------------------------------
ARRIVE IN HARIDWAR
Stay at the Haridwar hotel by the Ganges 2 nights. Hari Haveli Ganga Resort, right on the rushing Ganges River, Lovely balcony over the river. A much recommended extravagant splurge! 2 Nights @ Hari Haveli Ganga Hotel. If needed, the hotel can pre-arrange a car and driver for you to travel up to Rishikesh.
Spend one day relaxing in Haridwar. Many temples. Get your ID/permit at the railroad station if you plan to take a helicopter ride up to Kedarnath in Rishikesh.
Next day: early check out and drive (one hour) from Haridwar to Rishikesh. You must walk over the bridge into Rishikesh. Take a walk along the clean, blue Ganges riverside. Always be careful of cows walking towards you! Just give them a little extra room.
Kedarnath is an ancient Shiva temple of great pilgrimage, located at 11,600 ft. Said to be built by the Pandavas. Reconstructed in 8th century AD, It is more than 1000 years old. You can take a helicopter ride there and back, same day, from Rishikesh. About $100.RT. You may need a special ID from the Haridwar railway station to board the helicopter.. Or hike 14 miles up! Leaving Rishikesh, cross back over the bridge and drive (one hour) up to Dehradun.
Fly from Dehradun airport to Delhi domestic airport or return by car. Long drive.
Pre-booked Car&Driver from Delhi. Delhi to Dheradun. Or you could take a train to Haridwar and hire a car and driver in Haridwar: Haridwar, Rishikesh, Dehradun, end at Dehradun airport.
---------------------------------------
There are no remains of any structure left in Ayodhta from the time Rama was King. After court battles and a lot of strife a magnificient new Ram Temple is being built. Ram was the epitome of goodness and taught us how to be morally correct. If you want another day in Ayodhya there are many hotels in Faizabad close to Ayodhya. The heritage hotel Kohinoor Palace, and others.
----------------------------------------
----------------------------------------
BACK TO DELHI - OR ON TO - VARANASI
Avatar Meher Baba
-----------------------------------------
Avatar Meher Baba Samadhi - Tomb Shrine.
Meherabad
To visit: Avatar Meher Baba Samadhi Tomb Shrine. Fly from Delhi to Pune. There are many hotels in Pune, which is a 2 hour drive from Meherabad (Ahmednagar). There are a few new hotels in Ahmednagar with restaurants. The car ride from town to Meherabad is 15 minutes. There is a pilgrim guest house in Meherabad available for people genuinly interested in Meher Baba, only with prior reservations through the Trust Office.
The Samadhi can be visited directly from either Pune or Ahmednagar. You need to hire a car with a driver who knows how to drive to the parking up the hill, near the Samadhi. Open to everyone from 7 am to 7 pm.
Information about Meher Baba: https://avatarmeherbabatrust.org/
--------------------------------------------