The Road to Tabo Gompa
Shimla, Sangla, Kalpa, Chango, Tabo.
-------------------------------------------------------
ARRIVE IN NEW DELHI INDIA, - UP TO SHIMLA! Start your journey up the Kinnauri and Spiti Himalayan Valleys.
After immigration retrieve your luggage and exit onto the street. Cross the street and turn right. Walk a short distance, until you reach the 'Red Fox Hotel' located in Aerocity. If you have a reservation, call, and their staff will meet you and assist you. Rest a a night or two. You need to dress very modestly when you are in Kinnaur and Spiti. Observe local customs.
Start your journey: Toy train to Shimla! .. Fly or take a train to Chandigarh. Near the main train station in Chandigarh you'll find the 'Hotel Red Apple.' From Chandigarh, arrange for a taxi to transport you to Kalka station. Opt for the toy train ride from Kalka to Shimla. Don't consider driving up to Shimla. Another possibility is flying directly from Delhi, or Srinagar, to Shimla. When traversing the Himalayas, it's essential for women to adopt a highly modest dress code, characterized by loose and fully covering attire.
TOY TRAIN UP TO SHIMLA FROM CHANDIGARH
Kinnaur . Spiti Valleys
SHIMLA. Explore Shimla for a few days and immerse yourself in its charm. Beware, Shimla's lively monkeys are pranksters. Leave them ample space, and they'll usually stick to 'their side' of the road, it's best to ignore them.
Delve into the India of the mid-1800s, a time when Lord Dalhousie was Governor-General. His projects include creating the railway system, laying the groundwork for the telegraph line, establishing the postal system, and launching the Public Works Department. He designated Simla as the Summer Capital of the East India Company.
Stay a few nights in Shimla. Reminiscent of British Raj style, an excellent lodging choice is Clarks Hotel, located on the Mall. There are countless hotels in and around Shimla.
While in Shimla, don't miss the Hanuman Jakhoo Temple, Hindu Temples, Christ Church, St. Michael's Cathedral, and several small Buddhist monasteries that add to the city's diversity.
------------------------------------------------------
India Himalayas May-Sept.
First destination: Sangla, a town in the Baspa River Valley, also referred to as the Sangla valley, in the Kinnaur District of Himachal Pradesh, India, close to the Tibetan border. Second destination: Kalpa, known for its apple orchards and mountain views. Kalpa is in the Sutlej River valley, above Reckong Peo. The regions are inhabited by the Kinnauri people. Hinduism and Buddhism co-exist. Every Kinnauri village has a Hindu temple and a Buddhist Gompa and all worship both.
In Ancient Mythology The People Of Kinnaur Were Known As Kinners, The Halfway Between Human And Gods. Thousands Years Old Monasteries still exist In the area. Both The Buddhists And Hindus Live In Perfect Harmony
You will pass through fragrant orchards of apricots, apples, peaches and plums that are irrigated through the Khul system. Kinnauri apples, are delightfuly juicy apples.
Overnight in Chango. 122 kms from Kalpa, in the Hangrang Valley Is one of the most beautiful villages in Kinnaur. Chango monastery is the oldest center of expansion of Buddhism in the area.. .
Left into Spiti Valley. 25 miles to Tabo Gompa. Spiti is famous for ancient Buddhist monasterires, its clear night sky and clear views of the Milky Way.
https://mysterioushimachal.wordpress.com/tag/chango-temples-at-chango/
"Each mountain and each hilltop is inhabited by an awe inspiring local deity or spirit. It is said in Kinnaur that the Kalis or hill fairies protect the fauna of the land. Be careful when you're walking through the pristine green forests, the spirits of the Kalis are believed to reside in the Deodar trees. Try not to disturb the peace of wild things therein as the locals deeply revere this sacred tree."
https://indiahikes.com/blog/the-hidden-cultural-gems-of-kinnaur-that-no-one-tells-you-about#gref
--------- --------------------------------.
COMMENCE YOUR EXPEDITION IN MAY OR JUNE. Upper Passes start opening in May, the earliest suitable time. You could start in Srinagar, Tulips are in full bloom April 5-15 or so. You could then fly direct to Shimla, early May. Be sure to ensure your departure from Kinnaur before the monsoon season takes hold in mid-July, when landslides start. Srinigar is good in July as well, very light monsoon. Visitors often return to Sangla after the monsoon, especially during September. October watch out for heavy snows.
Your first destination on the ascent should be Sangla for a few nights. Proceed up to Kalpa, where it's advisable to stay until your body adapts to the altitude, which could take up to a week. Subsequently, progressing to Chango and Tabo will be more manageable. Keep in mind that venturing much higher, on up to Kaza, would entail a significantly greater elevation gain, hence requiring careful consideration.
Navigating the Himalayan Valleys necessitates a gradual ascent in altitude, allowing several nights or more at each higher level.
(Srinagar, Kashmir) .....5,200 ft
Shimla  ........7,500 feet .... 3+ nights is good.
(Rampur Bushan ..3,350 feet)
Recong Peo.....7,500 feet . Buses start/stop here.
Sangla ......... 8,900+ feet .. 3 or more nights.
Kalpa ............9,750 feet ..... at least 4 or more nights here.
Chango ..... ...10,000 feet . One night is good.
Spiti Valley: Check Point. Interline Permit needed to continue.
TABO GOMPA ....... 10,761 feet. If you have adjusted slowly, breathing will be 'easy' UP TO HERE !
-------------------------------------------------
Pin Valley  3,500 M
Dankar  3,894 M ... day trip only. from Kaza.
Kaza  3,800 M ........12,000 feet
Ki (Kye) Gompa ... 13,500 feet. day trip only, from Kaza.
______________________________________
INDIA WEBSITE INDEX: JOURNEYS, FABRICS: SUPERSTRUCTURE
PHOTOS HIMALAYAN VALLEYS Kinnaur. Spiti.
------------------------------------------------------
Begin your journey
Sangla before Kalpa. For transportation hire a car and driver in Shimla. The route is an 8+ hour drive alongside the Sutlej River, a well maintained road. Kalpa rests 1,000 feet higher in elevation than Sangla. The ride up the side valley to Sangla and back down to the highway in a few days is not for the faint-hearted. The mid point between Shimla and Recong Peo or Sangla is Rampur Bushahr.
Rampur Bushahr is midway Many nice hotels, Hotel Bushewar Regency HPDTC is a ncice one.
Using a BUS you must change buses, to get up to Sangla, just before Peo. You can also overnight in Rampur and get another bus ticket to continue. You can also get a bus in Recong Peo to go up to Kalpa.
KINNAURI VALLEY: The snow starts to melt early May and the closed roads within Kinnaur Valley start to open up to welcome visitors.
There is a tourist rush from late May to June... up to early July. Once you get into the last week of July, monsoon lashes Northern parts of India. The road journey in Kinnaur becomes problematic. Monsoon is one of the worst times to visit lower hills in the Himalayas, Can be dangerous. (It's much safer in Srinagar in July!). People come back to Sangla in September, after monsoon.. but leave before heavy snows in October.
Navigating the Himalayan Valleys necessitates a gradual ascent in altitude, If you wake up in the morning gasping, you are not ready to go higher yet. When visiting the Himalayas, it's imperative for women to dress modestly.
SANGLA Beyond its natural splendor, the Sangla Valley is a treasure trove of cultural experiences. The region is home to the Kinnauri people, who have their own distinct language, dress, and way of life. The traditional wooden houses with intricately carved designs stand as a testament to their craftsmanship and resilience in the face of the challenging Himalayan environment. The region offers a plethora of trekking opportunities that cater to different levels of expertise. The valley is also a gateway to the famous Kinnaur Kailash Parikrama trek, a challenging and spiritually significant journey around the sacred Kinnaur Kailash mountain. The Sangla Valley is a reminder of the extraordinary beauty that exists in Nature. The road from the kighway up to Sangla is not for the faint-hearted.
You will find Hindu temples and Buddhist in the villages up to Kalpa. Once you reach Chango it is all Buddhist gompas.
-----------------------------------------------------
INDIA CONTENTS : JOURNEYS, FABRICS: SUPERSTRUCTURE
--------------------------------------------------
Some experienced, Reliable Taxis for Kinnaur and Spiti:
Saleem 9805211177 / 8988087436. Innova with bucket seats. Car Numbers: HP 01 A 4461.
Arun Negi: from Recong Peo. Innova Crysta. Car Number: HP 01 A 6953.
Sunny from Shimla, Scorpio
Dilip: Kalpa, Scorpio, Recommended from DoW members.
Arvind Negi from Reckong Peo Scorpio and Innova Crysta,
Chhewang Dorjey: Kaza, Sumo Spacio. He can come to pick you up from Shimla and doesn't charge for it.
Tsering Kaza owns a Xylo which his driver runs. ref: " DevilOnWheels" runs Hotel Sakya Abode In the Spiti Valley'.
-----------------------------------------
BUSSES: One bus leaves Shimla around 11 AM. Once you reach Reckong Peo, you can travel to Kalpa, Sangla, by connecting buses within Kinnaur Valley. Hotel CK International is above the Shimla bus station.
Reckong Peo is also connected by a daily morning bus from Kaza in Spiti Valley as well. So, you can travel back down from Spiti to Recong Peo and Kinnaur by public transport.
--------------------------------------------------
'SIDE TRIP' UP TO SANGLA. CLEANEST AIR HERE !
The main Kamru fort is around 1,400yrs old. It was built by a king of the Bushahr dynasty. On the main gate, is a massive beautiful statue of Lord Buddha. At the top of the fort, there is a Kamakhya Devi Idol. Kamru village used to be the capital of the erstwhile Bushahr dynasty. It is especially known for the tower-like fort at its highest point, which was built by Lord Badrinath Ji thousands of year ago. The Kamru fort is a 7 storeyed building. Try Hotel Royal Castle, nearest to Kamru Fort.
Mahima Hotel is near bus stand in Sangla. The are a few shops selling woolen clothing in Sangla. Known for their intricate geometric designs, objects of religious importance are weaved on Kinnauri shawls with colours of mythological origins. The colours used have a meaning with green signifying air, blue - ether, white - water, yellow standing for earth and red for fire. On average, it takes around 45 days to complete a single shawl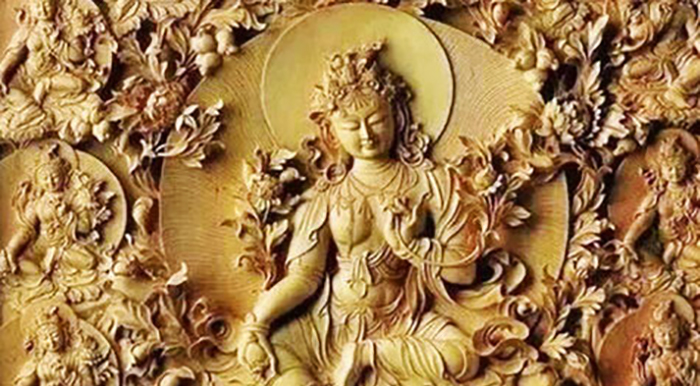 Batseri village is located on the left bank of Baspa River and can only be accessed by foot. The path that leads to this village is surrounded by stately deodar trees, one has to cross an exquisite spring that has a natural bridge of cantilevered logs over it. There are several nice hotels in Batseri. The Tibetann Wood Carving Centre Is situated near the Saffron Farm in Basteri vilage. Wood carvings in Tibetan style. The wood carving center is reached by passing through Batseri village. A nice place to buy handicrafts and hand made shawls. On your walk, visit the Badrinarayan Ji and Vishnu Narayan Ji temples.
Should you be well adjusted to the altitude, you can drive 1,000 ft. higher up to Rakcham. 9,500 feet. Driving further up from Sangla way to Chitkul, 11,320 feet. En route is the small scenic village of Rakcham located on the banks of River Baspa, inhabited by 800 people who are mainly nomads. 'Zostel Homes Hotel' looks very nice. Not many tourists visit this village, so if you want to feel the remoteness and want to be disconnected from the world, then Rakcham is a place for you. There is no access to internet here. Men look after the sheep and cows and women look after the farming and household chores. Rackam has 2 temples dedicated to Lord Shiva and Goddess Kali. It is not a tourist hub, but a place to stop and appreciate the nature and its beautiful surroundings. There is an interesting trek from Sangla to Rakcham.
The upper Sangla Valley is close to the border of Tibet/China, entry was restricted till 1993. Chitkul is the highest village and closest to the border. 11,320 feet.
--------------------------------
--------------------------------
Kalpa Kinnaur
BACK DOWN TO THE RIVER VALLEY TO RECONG PEO AND UP TO KALPA: altitude 9,850 ft.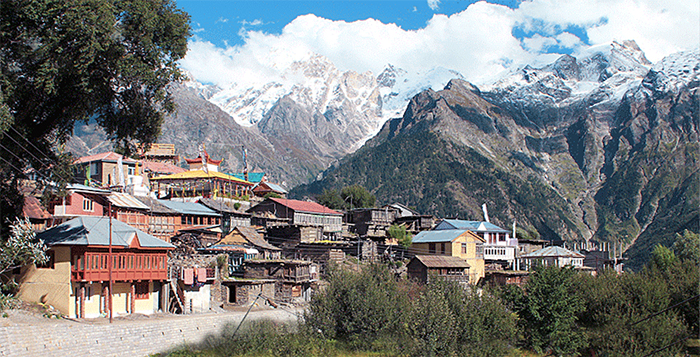 Kinnaur is a land seeped in mythology due to the inaccessibility of the region. Ancient Indian texts considered the mystical Kinners (people of Kinnaur) as supernatural beings, halfway between humans and gods. The Kinner Kailash range is purportedly the mythical winter abode of Lord Shiva. Kalpa ( once called Chini) is where the complete transition from Hindu Temples to Tibetan Buddhist Gompas begins.
There are many hotels in Kalpa with incredible views. Hotel Kalpa Deshang TC looksvery nice. Find one that offers heat or an electric blanket! and not too many stairs. The town of Kalpa has several Hindu and Buddhist temples. Many forest trails can start right at your hotel. You can take a day trip by car to Roghi.
The road to Roghi, 8 km. from Kalpa, is a bit scary as there is a cliff, which hugs the one way road. The view is spectacular! The Roghi village is built on the slope of a mountain and is covered with apple, apricot, and chilgoza trees. Villagers are friendly and will show you around.
-------------------------------------
IN JUNE: It is possible to drive further up the Kinnaur Valley to the Spiti Valley. Visit Tabo Gompa. On the way, Chango has a nice little hotel and a lovely Buddhist Gompa. Check if you need a permit from an office in Recong Peo before starting up the Valley. You may have to stop and show the permit at the military check point before turning into the Spiti Valley. Altitude of Tabo Gompa is only 10,760 ft. It gets harder to breathe beyond and above Tabo.
Spiti Valley ...
KALPA TO TABO The journey from Kalpa to Tabo takes you through some of the most awe-inspiring landscapes in the world. Starting from Kalpa, a quaint village known for its apple orchards and panoramic views of the Kinner Kailash range, you'll gradually ascend up to the Spiti Valley. The route traverses along mountain roads and often leaves you breathless not just from the altitude but also from the sheer beauty that unfolds at every turn. The journey from Kalpa to Tabo treats travelers to an ever-changing canvas of landscapes. The lush greenery and terraced fields of Kalpa give way to the rugged brown hues of the Spiti Valley. The stark contrast between the fertile orchards of Kalpa and the barren expanses of the Spiti Valley.
Overnight in Chango. 122 kms up from Kalpa, Chango monastery is the oldest center of expansion of Buddhism in the area.. .
You may need an *interline permit to cross into the Spiti Valley. You can get one in Recong Peo. Or Delhi. The military check point is only a dozen miles from Tibet/China.
As you ascend higher, you'll encounter the soaring peaks of the Himalayas, The towering mountains seem to touch the sky, and the air becomes crisper as you approach the high-altitude terrain.
Tabo Monastery: A Sacred Journey Through Time
-----------------------------
TABO GOMPA

Photo: Monk at Tabo Gompa. Right: from the road up to Dankar.
The monks continue with their everyday chores in the world's oldest monastery. This is life here in Tabo, a miniscule village in the Spiti district of Himachal Pradesh. Its lakes and waterfalls freeze in the winters, whereas summers bring the entire landscape to life. And in both, there is equal beauty, meant to be savoured separately
TABO GOMPA MONASTERY stands as a testament to the enduring power of faith and culture. With a history spanning over a millennium, this ancient monastery preserves a rich tapestry of spiritual teachings, artistic expression, and cultural heritage. Tabo Monastery stands as a living relic of spiritual devotion and human ingenuity. The monastery was envisioned as a center for learning, meditation, and spiritual growth. Its location was carefully chosen to provide a serene and conducive environment for monks to engage in their practices. The construction of the monastery and its various temples and chambers spanned several decades,
Tabo dates back to the 10th century. It was founded by the great Tibetan Buddhist scholar Richen Zangpo, The murals are not only aesthetically stunning but also serve as visual aids to impart profound philosophical concepts to both monks and visitors. Today, the Tabo Monastery continues to be a living monastery, with a thriving community of monks dedicated to their spiritual practices.
Tabo Monastery has played a significant role in preserving and propagating the Buddhist tradition, Unless you are quite comfortable breathing at Tabo, you can turn back down the mountain now, back to the Kinnauri Valley.
The Tabo monastery guest house is a great place to stay for budget travelers. It has a ten-bed dorm plus some individual rooms. No hot water. There are plenty of budget homestays in Tabo to stay.
https://www.tripadvisor.in/Hotel_Review-g2282344-d18834473-Reviews-Zostel_Homes_Tabo-Tabo_Lahaul_and_Spiti_District_Himachal_Pradesh.html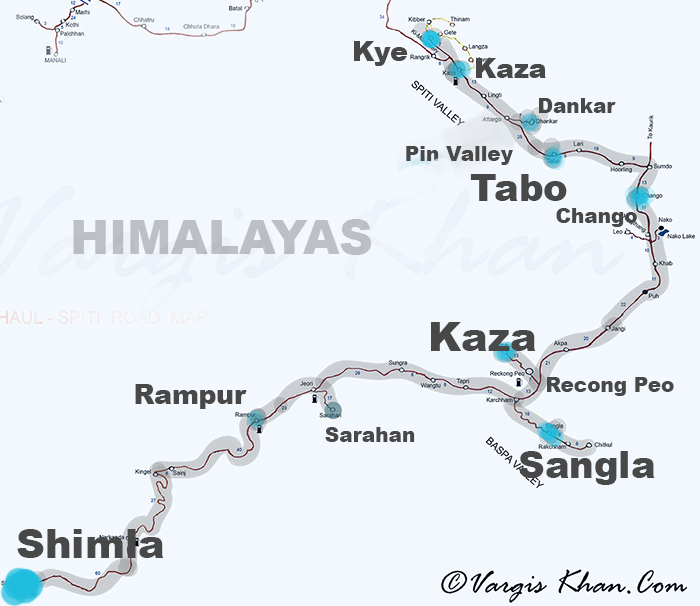 Kaza Dankar Kye ?
Continue up to Kaza. 12,000 ft. Higher elevation ! Situated on the bank of the Spiti River, Kye Gompa is above Kaza. A day trip to Dankar is easiest from Kaza.
KYE MONASTERY Perched high atop a barren hill overlooking the remote town of Kaza in the Spiti Valley, lies the ancient and serene Kye Gompa or Monastery. Kye Gompa's history is deeply intertwined with the evolution of Buddhism in the region. Believed to have been founded more than a millennium ago. The most striking feature is the assembly hall, adorned with ancient thangkas, statues of Buddha, and scriptures. It continues to serve as a place of worship, study, and contemplation for both resident monks. The monastery follows the Gelug sect of Tibetan Buddhism,
Kuzum Pass? After Kaza you could go down the other side to Manali, a 9 hour drive. The journey would take you through the treacherous Kunzum Pass, very hard for some to breathe, where prayer flags flutter in the wind, carrying prayers for safe passage through this challenging terrain. One of the most adventurous and most dangerous roads in the world. But despite all risks, it is also the most beautiful. You should take portable oxygen with you. For most people it is easier to return to Shimla the way you came up. Perhaps best and safer is to return back down to Kinnaur and Kalpa and then Shimla...
---------------------------------------------------
INDIA CONTENTS : JOURNEYS, FABRICS: SUPERSTRUCTURE
PHOTOS HIMALAYAN VALLEYS Kinnaur. Spiti.
____________________________________________
Leave before monsoon!
BACK DOWN TO KALPA THEN RETURN TO SHIMLA.
LEAVING SHIMLA:
* FLY TO DELHI FROM SHIMLA Fly to anywhere from Delhi.
* FLY TO SRINAGAR FROM SHIMLA. MONSOON IS IDEAL
* TOY TRAIN DOWN TO CHANDIGARH (Do not be tempted to drive down to Chandigarh from Shimla. Nauseating ride). Fly to anywhere.
___________________________________________
Himalayas advice: it is imperative for women to dress very modestly when visiting Srinagar and the Kinnaur Valley. You will be happier if you concede to the local culture in your dressing ie. loose and total covering, nothing exposed.
--------------------------------------
... or Shimla to Dehradun
DRIVE TO DEHRADUN FROM SHIMLA . 4 hour drive. Climate in Dehradun during monsoon is quite pleasant. The rainfall is within the range of mild to medium. The rainy season goes on till early-September. Best to hire a car and driver in Shimla for a week or so. Summer is famous for litchies. Delicious. Good hotel in Dehradun is the Red Fox. From Dehradun visit Musoorie, After Dehradun work your way down to RIshikesh and Haridwar. From Haridwar you can drive or take a train back to Delhi.
Garhwali Kingdom was one of the few kingdoms that never came under the Muslim rule influence. The history of Garhwal is older than that of the Ramayana and Mahabharata. Worshipping Lord Shiva, according to the great Mahabharata, Garhwal is believed to be the land where the Vedas and the Shastras were made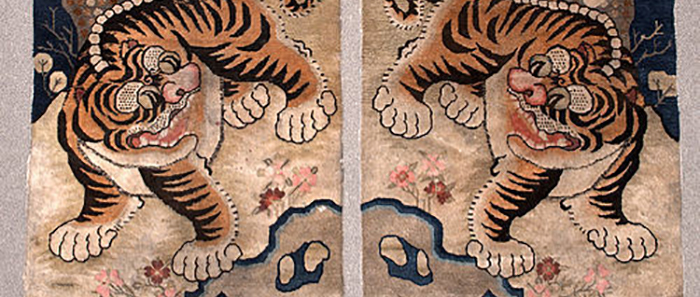 Close to 2000 Tibetan people now reside in the area.
You could fly back to Delhi from the Dehradun Airport.
Continue to drive down to Rishikesh on your way down to Haridwar. You must walk over the bridge into Rishikesh. Take a walk along the clean, blue Ganges riverside. Always be careful of cows walking towards you! Just give them a little extra room. You could also take a helicopter daytrip to Kedarnath from either Dehradun or Rishikesh.
ARRIVE IN HARIDWAR
Stay at the Haridwar hotel by the Ganges. Hari Haveli Ganga Resort, right on the rushing Ganges River, Lovely balcony over the river. A much recommended extravagant splurge!
Kedarnath is an ancient Shiva temple of great pilgrimage, located at 11,600 ft. Said to be built by the Pandavas. Reconstructed in 8th century AD, It is more than 1000 years old. You can take a helicopter ride there and back, same day, from Rishikesh. About $100.RT. You may need a special ID from the Haridwar railway station to board the helicopter.. Or hike 14 miles up! Leaving Rishikesh, cross back over the bridge and drive (one hour) up to Dehradun.
You could take a train from Haridwar to Delhi. about 4 hrs.
---------------------------------------
Avatar Meher Baba
-----------------------------------------
Avatar Meher Baba Samadhi - Tomb Shrine.
Meherabad
To visit: Avatar Meher Baba Samadhi Tomb Shrine. Fly from Delhi to Pune. There are many hotels in Pune, which is a 2 hour drive from Meherabad (Ahmednagar). There are a few new hotels in Ahmednagar with restaurants. The car ride from town to Meherabad is 15 minutes. There is a pilgrim guest house in Meherabad available for people genuinly interested in Meher Baba, only with prior reservations through the Trust Office.
The Samadhi can be visited directly from either Pune or Ahmednagar. You need to hire a car with a driver who knows how to drive to the parking up the hill, near the Samadhi. Open to everyone from 7 am to 7 pm.
Information about Meher Baba: https://avatarmeherbabatrust.org/
--------------------------------------------