Photo above: Harwan Valley, Srinagar, Kashmir, India...
Part 1 Mountains: Delhi. Srinagar. Shimla. Kalpa Kinnaur. Dehradun. Rishikesh. Haridwar Delhi 24 nights...
Part 2 Plains : Lucknow. Ayodhya. Varanasi. Sarnath. Orchha. Agra. Mathura, Vrindavan. Delhi... Then on to Pune ... HOTELS IN NORTH INDIA
This tour is designed for adventurous elderly people to comfortably travel to the Avatar's cities of India. This is not a commercial site. Information only.
--------------------------------------------
ARRIVE IN NEW DELHI INDIA INTERNATIONAL AIRPORT:
Clothing advice: It's may be ok to wear comfortable jeans with a long shirt/t shirt in a big city, but NOT ok for short t-shirt, nor a short skirt nor shorts. Always a good idea for women travelers to keep a long scarf handy, to cover head and upper body in religious places.
After clearing customs and entering India, pick up your bag and exit onto the street. You can cross the street and turn right. Half a block to the 'Red Fox Hotel' in aerocity. If you have a reservation you can call and they will send a man to meet you, help you with your luggage and walk you to the hotel entrance! Wonderful hotel. Check in and rest!
Night 1: Red Fox Hotel. Day 1: rest. Nice restaurant in lobby, helpful staff. Pool available.
The stories of the 5 Avatar Advents in India
Night 2 Red Fox Hotel
---------------------------------------
If DELHI is HOT: Fly to Srinagar!
---------------------------------------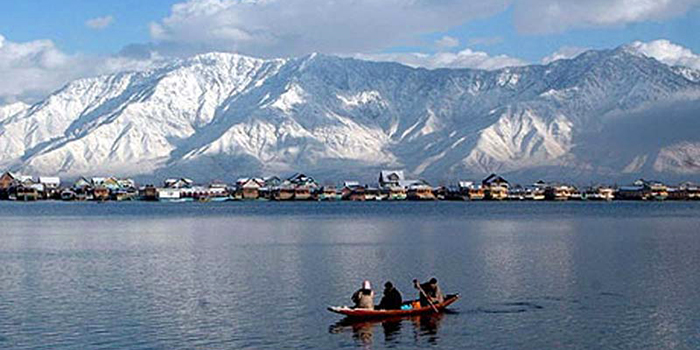 ARRIVE IN SRINAGAR: altitude 5,200 ft
Kashmir advice: it is imperative for women to dress very modestly when visiting Srinagar. 97 % of the present population of Kashmir is Muslim and It is a male dominated society. You will be happier if you concede to the local culture in your dressing ie. loose and total covering, nothing exposed. Always a good idea for women travelers to keep a long scarf to cover head and upper body in religious places.

Srinagar Airport Pickup from hotel. Check in for 5 nights. Dinner. Previously arrange a car and driver for next 6 days in Srinagar. night 1. There are many nice hotels. Travellers Inn Homestay or Almus Resort are small, casual and comfortable.
Pre-booked Car&Driver 6 days. Srinagar to Srinagar.
Car and Driver...Day 1 in Kashmir: Visit the Harwan valley area and the Buddhist Monastery Ruins, great views of nearby mountains. Jesus was buried on a mountainside in the Harwan Valley. His tomb is in a cave. It says 'Jesu the Good Shepard' (Yuz) but has been covered by a landslide and is not identified: Have lunch, do a little shopping at some of the famous Kashmiri embroidry shops as well as wood carvings. A shikara ride on Dal Lake is a popular boat ride. Back to your hotel for dinner. night 2.
Car and Driver...day 2 Scenic drive up around Wular lake, or to Yuzmarg (Jesus Meadow). opposite directions from Harwan. Return to Srinagar. Drive up to the Vivanta Dal View for their scenic early sunset view and dinner in the 'Jade Dragon' restaurant. Back to your hotel. night 3
Wular Lake
Driver: Day 3. Breakfast. Morning drive to Gulmarg and take the Gondola ride up the mountain. First leg is fine. Second leg is too high for most people (14,000 ft.) You can pre-arrange tickets at the tourist office in Srinagar or stand in line once you get there ( could be a long wait). Drive back to Srinagar hotel. Dinner, in town (Ahdoos) or back at hotel. night 4 *If you want to stay in Gulmarg, there are many good hotels, it's a popular ski resort in winter.
Driver... Day 4 around Srinagar. shopping, morning shikara ride, local sights OR morning drive to Yuzmarg and back to Srinagar, many popular restaurants near. night 5 That's 5 nights in Srinagar so far at same hotel ...
Driver ..Next morning. Breakfast, Check out. Drive up to Sonamarg and stay at Rah Villa Resort or drive to Palhagam. and stay Hotel Heevan with river view room. for night 6. . After breakfast and lunch check out. 3 hour drive (each way to either place). Afternoon drive back to Srinagar.
Gulmarg, Sonamarg and Pahalgam: altitude 7,500 ft.
Driver... Day 6. Afternoon drive back Srinagar for night 7 New hotel. Maybe a high rise hotel in town. Last Dinner in town or hotel.
... Day 7. Breakfast last Day. Maybe morning shopping. Taxi to Srinagar airport. Arrive at airport 3 hours before flight time.. very long inspection to fly out. *Remember you need an advance airline reservation from Delhi to Srinagar and from Srinagar to Chandigarh. ( *it is also possible to fly to Delhi, Mumbai and Lucknow direct from Srinagar).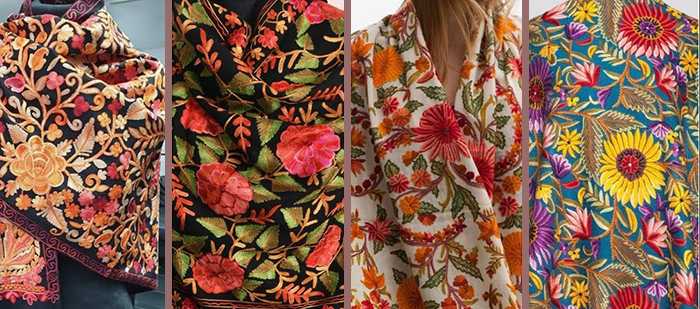 Kashmiri hand embroidery on wool shawls
-------------------------------

Srinagar hotel. suggest you search for hotel with an elevator and central Heat! AC in the room in summer. Another consideration is air pollution in central Srinagar (worst month is November). Out of the pollution, East of Dal Lake: Vivanta Dal View Resort on a hill with a wonderful view. Moderate would be the 'Grand Mahal' with elevator and central heat, Almus Resort or Travellers Inn would be small and comfortable. If it's summertime, there are many nice budget hotels to consider and the many luxury houseboats.
In the (sometimes polluted) city, most highly rated high-rise with heat and elevator: The Kabo, CH2, Four Points by Sheraton and The Downtown. .. There are also countless budget lodgings, most have only stairs and no central heat. Check!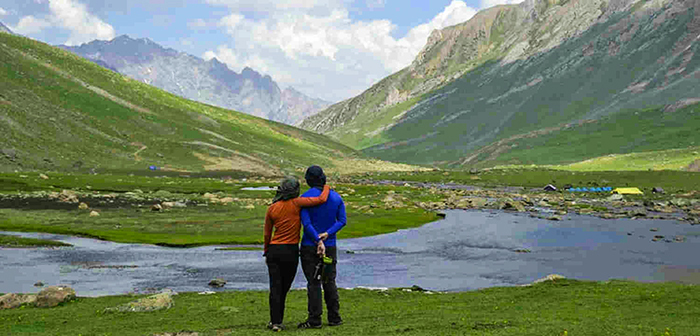 Restaurants in Srinagar:
Best Chinese restaurants in Srinagar are: Lasha, Tibetan Bowl and Nun Kun.
Jade Dragon Vivanta Dal Views. Chinese, Asian, Oriental
Chinar at the Lalit Concepts from around the world
Ahdoos Authentic Kashmiri lamb dishes, Chinese, bakery!
Stream Restaurant Chinese, Indian, and Kashmiri
-------------------------------------------
Last Day. Taxi to Srinagar airport very long inspection to fly out from Srinagar. Fly back to Delhi.
You need advance reservations to fly out of Srinagar.
----------------------------------
PARTING FROM KASHMIR
----------------------------------
FLY TO CHANDIGARH
One night in a Chandigarh Hotel. Next morning Taxi to Kalka to Shimla trains: Kalka Shimla Pass Ng (52457), Rail Motor Ng (72451), Shivalk Dalimgaon Exp Ng (52451), Kalka Simla Exp Ng (52453), and Himalyan Queen Ng (52455) run all 7 days of the week.
ARRIVE IN SHIMLA: altitude 7,467 ft
India of the mid-1800s, and Lord Dalhousie has been appointed as Governor-General of India. He introduces India to its first railway, lays out its first telegraph line, establishes its postal system and starts the Public Works Department. Amidst all this reformation, he anoints Simla as the Summer Capital of the East India Company.
When Lord Dalhousie ruled England he spent part of his summers in Kalpa. He liked to hunt and Kalpa is beautiful. It took two weeks by donkey train to get to Kalpa.
It is, by far, more pleasant to take the little train from Kalka to Simla than to drive up.
It is easy to get a taxi in Shimla to take you to Recong Peo. Once there your Kalpa hotel can arrange to have you picked up. You can also take a bus from Shimla to Peo. The road (8 hr drive) is alongside the Sutleg River and is an easy and well maintained road. Consider visiting Sangla before Kalpa. Kalpa is 1,000 ft higher than Sangla.
-----------------------
https://car-rental-chandigarh.com/reckong-peo.html
tel. 09855854999 and 9781410616
------------
Shimla Taxi Service +91 98165 66772
Shimla Hill taxi
Email Id
sohan.2906@gmail.com
Address
Ashok vati, Strawberry Hill, Chotta
Contact
919816566772
Area
HP.Sectt., Khalini, Shimla East
-----------------------------
The mid point between Shimla and Recong Peo is Rampur Bushahr. There are many nice hotels there, if you want to spend a night halfway, since it is an 8 hour drive from Shimla to Recong Peo or Sangla.
ARRIVE IN SANGLA: altitude 8,530 ft.
The road up is a scary one (1 hr). Sangla is presently famous for its trout fishing. A large number of fishing enthusiasts visit every year, especially in October. The main gate of Kamru village has an image of the Buddha.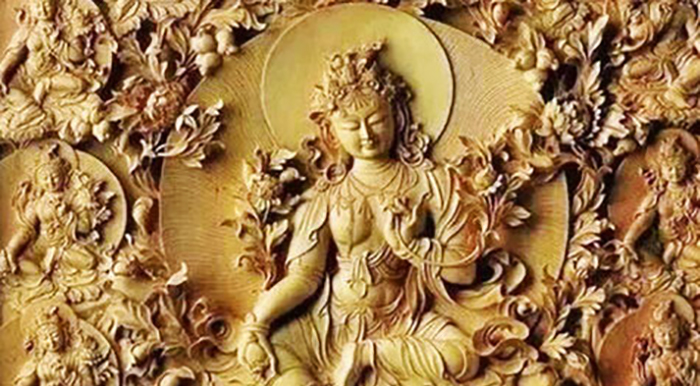 The Tibetan Wood Carving Centre Situated near the Saffron Farm in Basteri vilage. Wood carvings in Tibetan style. The wood carving center is reached by passing through Batseri village. A nice place to buy handicrafts and hand made shawls. On your walk, visit the Badrinarayan Ji and Vishnu Narayan Ji temples.
Batseri village is located on the left bank of Baspa River and can only be accessed by foot. The path that leads to this village is surrounded by stately deodar trees, one has to cross an exquisite spring that has a natural bridge of cantilevered logs over it. There are several nice hotels in Batseri.
The upper Sangla Valley is close to the border of Tibet/China, entry was restricted till 1993. Chitkul is the highest village and closest to the border. This was the original seat of the rulers of Bushair.
ARRIVE IN KALPA: altitude 9,850 ft.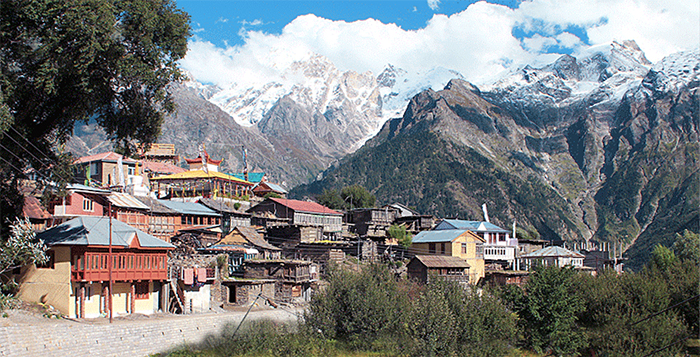 Kinnaur is a land seeped in mythology due to the inaccessibility of the region. Ancient Indian texts considered the mystical Kinners (people of Kinnaur) as supernatural beings, halfway between humans and gods. The Kinner Kailash range is purportedly the mythical winter abode of Lord Shiva. Kalpa ( once called Chini) is now where a transition from Hinduism to Buddhism begins.
There are many hotels in Kalpa with incredible views. Find one that offers heat or an electric blanket! and not too many stairs. The town of Kalpa has several Hindu and Buddhist temples. Many forest trails can start right at your hotel. You can take a day trip by car to Roghi (close). A day trip by car to Sangla (1.5 hours each way up the scariest road imaginable).
ROGHI DAY TRIP
The road to Roghi, 8 km. from Kalpa, is a bit scary as there is a cliff, which hugs the one way road. Enjoy the view is spectacular . The Roghi village is built on the slope of a mountain and is covered with apple, apricot, and chilgoza trees. The village has a temple and apple gardens. Villagers are friendly and will show you around.
DAY VISIT TO MOORING: altitude 11,781 ft
Further up on the old Hindustan-Tibet Road, is a village called Moorang on the banks of river Sutlej, the name indicating a place where three water channels meet. Moorang is one of the lesser known towns of Himachal Pradesh. Remarkable for the strikingly beautiful mountains surrounding the village. The Mooring fort has numerous myths and legends around it. This fort, which is almost in ruins, is said to have been built by the Pandavas. Moorang is surrounded by apricot orchards, flowering in April. You can explore the Moorang Temple at Chilling and the Monastery. A few restaurants, where the food is delicious and authentic. Recong Peo is 33km away.
A WEEK IN KALPA
Although these day trip are fun and exciting, you can simply enjoy staying in Kalpa for a week, wandering through the village and short walks in the woods.
-------------------------------------
Leaving Kalpa one must return to Shimla for a night, then take the toy train back down to Kalpa and Chandigarh. (Don't be tempted to drive down from Shimla. Nauseating ride). Then fly from Chandigarh to Delhi and fly to Dehradun. Or pre-arrange for a Car and driver to meet you in Delhi and drive to Haridwar and beyond.
---------------------------------------
PARTING FROM THE KINNAUR VALLEY
----------------------------------------
FLY TO DEHRADUN. If you fly back to Delhi from Chandigarh stay a night at the Red Fox Hotel, depending on your connection to Dehradun and work your way down to RIshikesh and Haridwar and back to Delhi. . OR arrange a car and driver and drive to Haridwar first.
ARRIVE IN HARIDWAR
Pre-arrange (on the internet) a car and driver to pick you up at the hotel (or go to train station and take a train). Drive or train (4 hours) to Haridwar. Stay at the Haridwar hotel by the Ganges 2 nights. Hari Haveli Ganga Resort, right on the rushing Ganges River, Lovely balcony over the river. A much recommended extravagant splurge! 2 Nights @ Hari Haveli Ganga Hotel If needed, the hotel can pre-arrange a car and driver for you to travel around Dehradun via Rishikesh.
Spend one day relaxing in Haridwar. Many temples. Get your ID/permit at the railroad station if you plan to take a helicopter ride up to Kedarnath in Rishikesh.
Next day: early check out and drive (one hour) from Haridwar to Rishikesh. You must walk over the bridge into Rishikesh. Take a walk along the clean, blue Ganges riverside. Always be careful of cows walking towards you! Just give them a little extra room.
Kedarnath is an ancient Shiva temple of great pilgrimage, located at 11,600 ft. Said to be built by the Pandavas. Reconstructed in 8th century AD, It is more than 1000 years old. You can take a helicopter ride there and back, same day, from Rishikesh. About $100.RT. You may need a special ID from the Haridwar railway station to board the helicopter.. Or hike 14 miles up! Cross back over the bridge and drive (one hour) up to Dehradun.
ARRIVE IN DEHRA DUN
Garhwali Kingdom was one of the few kingdoms that never came under the Muslim rule influence. The history of Garhwal is older than that of the Ramayana and Mahabharata. Worshipping Lord Shiva, according to the great Mahabharata, Garhwal is believed to be the land where the Vedas and the Shastras were made
Sikh Guru Har Rai, set up his "Dera" (camp) in "dun" (valley) in 1676. Check into the Dehradun-Red Fox Hotel for 3 nights . The Meher Dham Spiritual Center 105 Rajpur Road. (+91 98970 12464) and Meher Prasad 74 Rajpur Road. The 'Blue Bus tour' went to Dehra Dun for 5 weeks in 1941. Avatar Meher Baba and his New Life companions spent 9 months there in 1950. In the summer heat of April they went up to Mussoori for 7 weeks. Meher Baba often returned to Dehradun, he began dictating God Speaks, there, using an alphabet board. After His Dehra Dun Darshan they left. November 1953.
The Dalai Lama visited Dehradun briefly during his first visit to India in 1956. Mussoorie was the Dalai Lama's first place of refuge when he fled Tibet (1959), before he was granted land in Dharamshala. The Tibetan area of Dehradun is under his leadership and is located about 7 kms from the city centre. Mindrolling Monastery (main temple open Sundays only) and the world's largest Stupa are are there. In 1965, Khochhen Rinpoche and small group of monks began the process of re-establishing Mindrolling monastery ( 300 years old in Tibet) located in Dehradun. It now contains Ngagyur Nyingma College, one of the largest Buddhist institutes in India. Close to 2000 Tibetan people now reside in the area. Many shops and restaurants. They strive to promote the Tibetan cause in the global discourse and unite in preserving the distinct Tibetan culture, religion, language, and identity.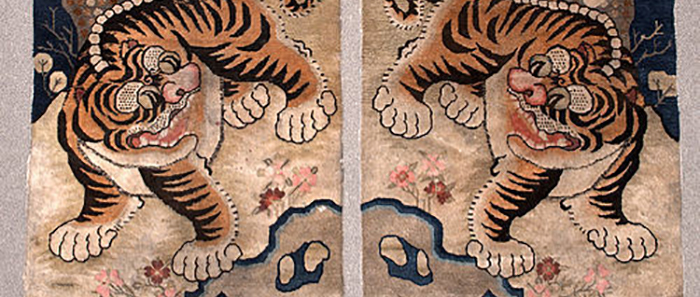 Their main livelihood depends upon the traditional handicrafts of the Tibetan carpet, shoulder bags and woolen weavings like sweaters, socks and hats. Tibetan refugees in Dehradun are able to live well despite being refugees. There is a 'Tibetan Womens' Centre where refugees make hand knotted rugs and crafts. Nice shops in town.
Musoorie, a hill station, is a one hour drive up above Dehradun. Mussoorie was established in 1825 by Captain Young, a British military officer, he explored the present site and constructed a shooting lodge. The East India Company came to Mussoorie to shoot game. Mussoorie, also known as Queen of the Hills, is among the most popular hill stations of the country. In a small village outside Mussoorie the 'Himalayan Weavers of Masrana' live and work and promote the use of natural dyes on wool. The villages around are old and rich in the culture of the Garhwal Himalayas. One of their shops there, near Musoorie, is very scenic. Their other shop is in Rajpur village in Dehradun.
Spend one day around Dehradun and one day visiting Mussoorie.
Last day: early check out of the Red Fox Hotel after breakfast. Fly from Dehradun airport to Delhi domestic airport to fly to Srinagar. You will need to have made advance airline reservations to Srinagar.
Pre-booked Car&Driver from Delhi 6 days. Delhi to Dheradun. Or you could take a train to Haridwar and hire a car and driver in Haridwar for 5 days: Haridwar, Rishikesh, Dehradun, end at Dehradun airport morning drop off.
---------------------------------------
----------------------------------------
END OF SECTION ONE. Should you want to break the tour at this point, you can fly from Srinagar to Delhi for 2 nights. Take the super fast express train to Agra for the day and see the Taj. Then fly to (Pune). You can later fly from Pune to Lucknow and resume the tour in Lucknow.
SECTION TWO: Fly to Lucknow. SECTION TWO LUCKNOW. VARANASI. ORCHHA. AGRA. MATHURA.
--------------------------------------------
----------------------------------------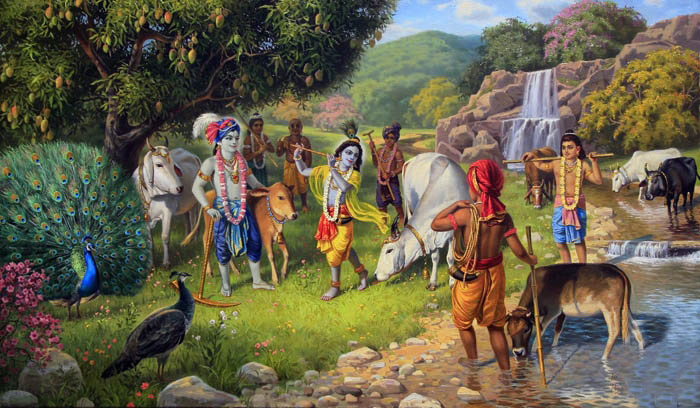 ----------------------------------------
BACK TO DELHI - FLY TO PUNE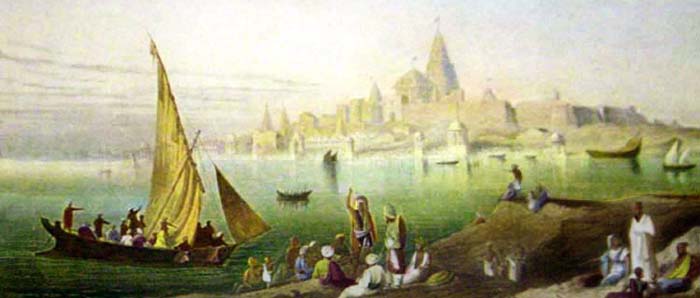 A STORY OF KRISHNA IN ANCIENT DWARKA
ANOTHER TOUR: MUMBAI TO VERAVAL. LIONS. DWARKA
SECTION TWO: LUCKNOW. VARANASI. ORCHHA. AGRA. MATHURA.
To visit Meher Baba's Samadhi, fly from Delhi to Pune
-----------------------------------------
Avatar Meher Baba Samadhi - Tomb Shrine.
ARRIVE IN MEHERABAD
To visit: Avatar Meher Baba Samadhi Tomb Shrine. Fly from Delhi to Pune. There are many hotels in Pune, which is a 2 hour drive from Meherabad (Ahmednagar). There are a few new hotels in Ahmednagar with restaurants. The car ride from town to Meherabad is 15 minutes. There is a pilgrim guest house in Meherabad available for people genuinly interested in Meher Baba, only with prior reservations through the Trust Office.
The Samadhi can be visited directly from either Pune or Ahmednagar. You need to hire a car with a driver who knows how to drive to the parking up the hill, near the Samadhi. Open to everyone from 7 am to 7 pm.
Information about Meher Baba: https://avatarmeherbabatrust.org/
The stories of the 5 Avatar Advents in India
------DISCLAIMER: This is not a commercial site. We offer nothing but the opportunity for you to see a way to make this trip work. Information only. No gaurantee the info is correct. Have tried my best, but I'm no expert. ---------------- I have not taken the *photos on this page-------