www.elyunque.com NAVIGATION BAR AT BOTOM OF PAGE
THE MARSHES OF MAUNABO BEACH


On a scenic drive around the south east tip of Puerto Rico be sure to get out of your car on the 'Faro Playa' beach, just west of the Punta Tuna lighthouse. At the very western end of the beach the sluggish river lets out into the sea through this lovely marsh. The whole area is very beautiful and the lighthouse is visible to the east from the beach. The waters are too rough and sometimes dirty from the river, so this is not a good place to swim. You should not get wet in the river, due to schistosomiasis.
If the restaurant is open, have a wonderful lunch here. Then continue west ( or east) on your scenic route. If you are going west and back to San Juan you should drive up Road # 15 to Cayey, which is get onto in Guayama. ( Divine lunch and view at the Jajome Terrace Restaurant at the top of #15 -open Thurdays through Sundays) . . or continue west to Guayama and on to the city of Ponce.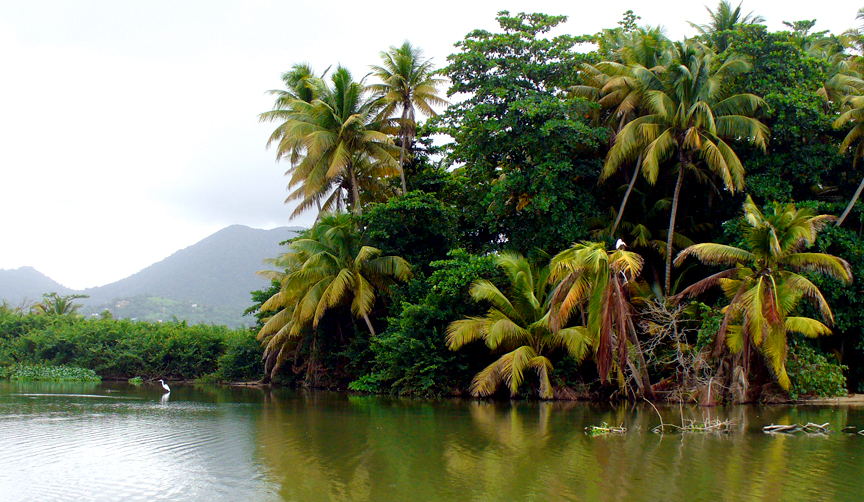 The occasional visitors. A pair of 'American Oystercatchers' Not often seen around Puerto Rico, I have seen them three times in the last 8 years. Once on Vieques Island, once on Icacos Island and ( July 2009) here on the beach in Maunabo.

Previous | Back to the Photos page of El Yunque.com | Next
TRAVEL GUIDE TO PUERTO RICO
www.elyunque.com