Hiking Trails off of Road # 191 on the
North Side El Yunque rainforest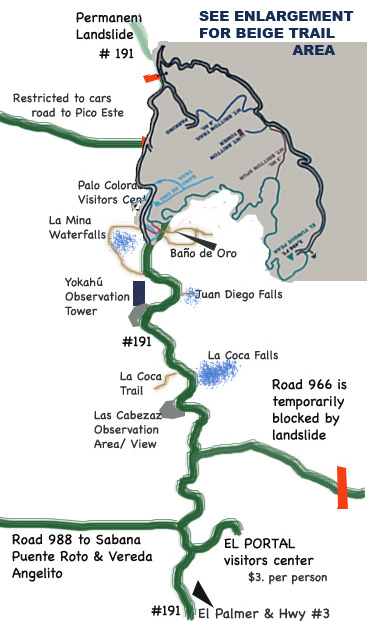 The trail map above shows the easier and more popular trails off of road #191. There is a gift shop at the El Portal Visitors Center that sells good maps.
* El Toro 3533 Ft
* Pico El Yunque 3494 Ft
* Pico Del Este 3446 Ft
* El Cacique 3346 Ft
* Los Picachos 3175 Ft
* Mount Briton 3075 Ft
* La Mina 3055 Ft


View from El Yunque Peak tower to the Mt. Britton Tower ( hike up) looking south Photo: Elena
Los Picachos Peaks, a 45 minute to one hour hike up, on a trail, above Mt. Britton. Photo: Elena
There are steps to the very top and a flat platform on the very top as well! Can be windy.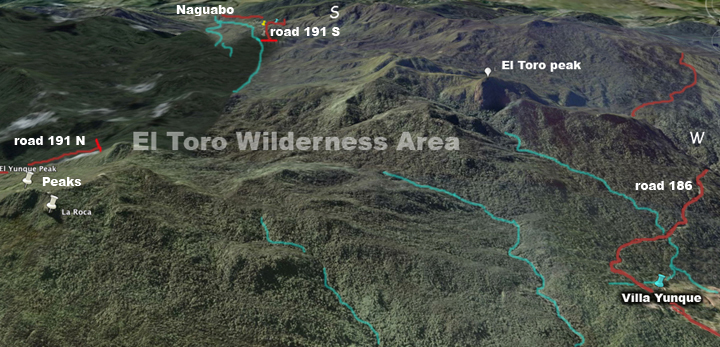 The above image gives you an idea of the length of the hiking trail from road # 186 to El Toro peak and then to the top of road # 191 N. . This is a very long trail and you need to make arrangements to be dropped off and picked up at the other end. This is a wilderness trail, it can be muddy. Roads # 191 N and # 191 S and # 186 are the only roads that reach high enough to get into the actual rain forest.
*** Rivers off of # 186 are perhaps, the most beautiful and also # 191 S but there are flash floods periodically and you must exercise extreme caution.
EL YUNQUE NATIONAL RAIN FOREST
TRAVEL GUIDE TO PUERTO RICO