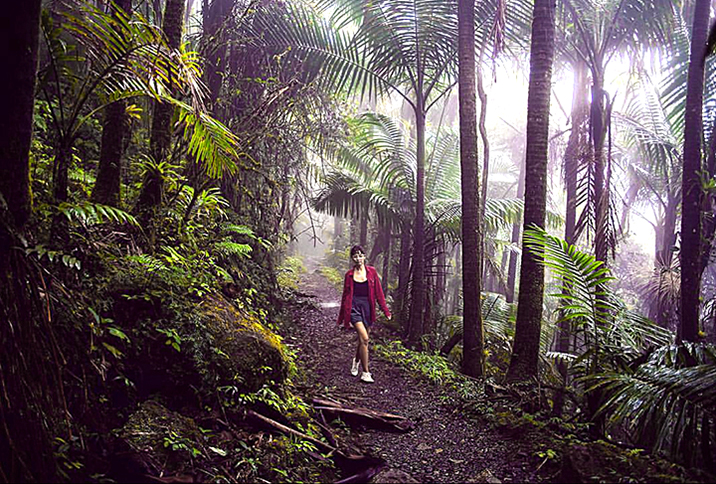 Above trail photo courtesy of Alberto Pérez de Nostikof Studio.

The trail map below shows the upper trails off of road #191near the top of the accessible road. There is a gift shop at the El Portal Visitors Center that sells good maps. Maps are usually displayed at the trail head.


A 45 minute walk from the Mt. Britton parking takes you up a cement path with steps, whith some steps and a few shelters alongside. 45 minutes up to Mt. Britton, 15 minutes down again! but the view is well worth it.
* El Toro 3533 Ft
* Pico El Yunque 3494 Ft
* Pico Del Este 3446 Ft
* El Cacique 3346 Ft
* Los Picachos 3175 Ft
* Mount Briton 3075 Ft
* La Mina 3055 Ft
View from El Yunque Peak tower to the Mt. Britton Tower ( hike up) looking south Photo: Elena
Los Picachos Peaks, a 45 minute to one hour hike up, on a trail, above Mt. Britton. Photo: Elena
There are steps to the very top and a flat platform on the very top as well! Can be windy.

The hike to El Toro peak is no longer open to the public and the fine is considerable. However, if you start from the top of the road on the SOUTH side of @191, above Naguabo, you are allowed to hike from there to El Toro peak.
** Rivers off of # 186 are perhaps, the most beautiful and seen from the road. There are flash floods periodically and you must exercise extreme caution in all the mountain rivers. .
All lodging surrounding the rainforest
EL YUNQUE NATIONAL RAIN FOREST
TRAVEL GUIDE TO PUERTO RICO