ICACOS ISLAND, NEAR FAJARDO, THE MOST BEAUTIFUL BEACHES !
A STRING OF LITTLE ISLANDS - THE CORDILLERA NATURE RESERVE
Icacos Island is one of the islands off the NE tip of Puerto Rico which form the Cordillera Keys Nature Reserve. Palomino, Palominito, Diablo, Lobos, Ratones and Icacos Islands and many large rocks such as Cucaracha. They are administered by the Dept. of Natural Resources of Puerto Rico. ( Palomino and Lobos are private islands.)
ENJOY THE DAY ON PUERTO RICO'S MOST BEAUTIFUL BEACH ISLAND
Icacos Island has some snorkeling but not much to speak of.

Elena's Best Snorkeling Trip includes Icacos beaches.
Please note: Las Croabas is also where the biobay kayak tours leave at night. Los Bohios Restaurant is very good and Calizo's Restaurant is terrific. Most fun might be La Estacion Restaurant Grill.
Snorkeling: You can snorkel/explore around the edges of Icacos but there is no real easy reef you can readily access from the shore.
Icacos Island is big enough so that you cannot walk around it easily. The ocean side is rough and rocky with waves breaking over the rocks and the leeward side is very calm and lovely. . . Water Taxis leave you here:
Waiting to be picked up at the end of the day from Icacos. Dos Marinas condos in the background are in Fajardo, on the mainland of Puerto Rico.
Beach exploring is great for anyone who doesn't want to spend much time in the water. The problem with exploring Icacos is getting yourself out of this incredible water to go exploring!
Icacos Island has some snorkeling but not much to speak of.
'Beachrock' is rock that forms near mid-tide level beneath the sand on tropical beaches. It is a very distinctive rock that forms rapidly. Tidal fluctuation constantly forces calcium carbonate-rich waters through the sands where evaporation and off-gassing of carbon dioxide probably help stimulate precipitation of calcium carbonate. Within a few years, crystals of aragonite, a common marine form of calcium carbonate, precipitate between the grains, welding them together to form a very hard limestone. When sea level rises, as it has done during the past 18,000 years, any beachrock that formed several thousand years ago becomes submerged. . . . quote from geologist Eugene A. Shinn
ICACOS HAS NO FACILITIES:
Please take Sun block, water and snacks. a towel and dry shirt. Wear a long sleeve white or light blue shirt then you really won't get sunburned. Icacos is a deserted small island and there are NO facilities. No vendors, etc. You must bring everything and remove all your trash.
The boats leave from two docks in Las Croabas, a small 'village' which is past the entrance to the El Conquistador Resort in Fajardo and past Seven Seas Beach. At the end of road there is a small cove with lots of boats at anchor and two docks, a wooden dock, across is a cement dock.
The boats at the cement dock are the licensed and responsible captains. Look for Captain Mingo in the yellow boat or try the others at the cement dock. $100. to go there and be picked up later is the correct price. for more than 4 people the cost is $25 per person. ( maximum 6 per boat trip)
• Private charter snorkeling trip. 4 hours visiting the various islands and reefs.
EXPLORE THE DRAMATIC BACKSIDE OF ICACOS
See the dramatic backside of Icacos with a guide: Email Elena <elenastour@hotmail.com>
One of the windswept backside of Icacos beaches, you can not walk there from the front
copyrighted photo @ courtesy of Clay Humphrey
Cayo Icacos seen from the air. Photo courtesy of Father Sanchez.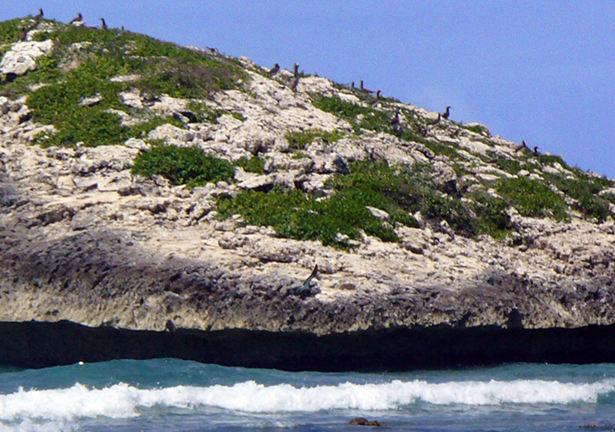 This bird colony is on a rock island behind Icacos.. Totally protected by ocean all around it.

Snorkel the offshore reefs with Elena by motorboat. 3 islands, several reefs.