The Beaches & Balnearios of Puerto Rico

Puerto Rico's beaches are varied. The fabulous white sand beaches and turquoise seas of your dreams are in Vieques, Culebra and the islands near Icacos, but mainland Puerto Rico has its share of interesting beaches as well. Isabela has dunes, Maunabo has dramatically beautiful views and orange sands. Luquillo has a beautifully calm crescent with a lovely view of the mountains. The beaches around the scenic Cabo Rojo lighthouse are white sand. Rincon has its great surfing waves in the winter and yellow calm sands in the summer.

BEST BEACHES in PUERTO RICO! CAYO ICACOS - ...... Snorkeling with Elena

The beaches on the sandy cays that comprise the Cordillera Reserve are fabulous. Cayo Icacos is the more popular destination for a days-ail. The snorkeling is great, as is the beach. The sail back, downwind, at the end of the day is pure heaven. If your priority is endless pristine beautiful beaches then head for Vieques and Culebra Islands but you will need to rent a jeep to see them all. ( rent it there, you cannot take a rental vehicle on the ferry.)

View from Icacos Island near Fajardo, eastern Puerto Rico

Balnearios ( public beach family recreational facilities). Parques Nationales de Puerto Rico now administers the Balnearios. Most offer parking and changing facilities. Some have camping facilities, some have cabins and villas. Camping on the beach is a little risky but one campground is safe enough to recommend on the main island and Flamenco Beach on Culebra Island is fairly safe as well, in the summer all are complete chaos: Two bedroom cabins and villas are $65. And $109., respectively. Beaches are very crowded in the summer, especially 3-day weekends. Winter is much quieter and very peaceful.

Vieques Island Beaches. Culebra's Flamenco Beach. Scenic Luquillo Beach. Icacos Key. Maunabo Beach •

click on photo

• Seven Seas Beach Balneario Campground near Fajardo. Tel. 787-863-8180. The most protected of the public beaches in Puerto Rico but, even so, you should judge the situation yourself, because conditions change. Seven Seas Beach below, Photo 'Summer Fun' : Elena


• Luquillo Beach Balneario Campground in Luquillo. Tel. 787-889-5871 . Fantastic location but do not camp here in the winter if you are the only ones, it is not safe.

Luquillo has the greatest variety of beaches.

KAYAK RENTALS behind the Kioskos in Luquillo.

• Sun Bay Balneario Campground in Vieques. Tel. 787-741-8198. OK for safety but lots of petty theft.

Balnearios around Puerto Rico Administered by 'Parques Nationales':

• Tres Hermanos, Anasco Tel. 826-1610 - Villas de Anasco Vacation Center.
• Boqueron, Caba Rojo Tel. 787-851-1900
• Cana Gorda, Guanica Tel. 787-821-5676
• Punta Guilarte, Arroyo Tel. 787-839-3585 - Villas and Cabins
• Cerro Gordo, Vega Alta Tel. 787-883-2730
• Manuel "Nolo" Morales, Tel. 796-2830
• Punta Salinas, Toa Baja Tel. 787-795-3325
• Escambron, San Juan Tel. 449-5672
• Punta Santiago, Humacao Tel. 787-852-1660 - Villas and Cabins
• La Monserrate, Luquillo Tel. 889-5871
• Sun Bay, Vieques Tel. 787-741-8198
• Seven Seas, Fajardo Tel. 787-863-8180

. . . and in the mountains of Maricao - Cabins Tel. 787-622-5200 for information for ALL.
...... Not a beach but a ZOO in Mayaguez. open Wednesday through Sunday and Holidays. . 8:30 AM to 4:00 PM. Tel. 787-832-6330.

ACC Autoridad de Conservacion y Desarollo de Culebra administers the Flamenco Beach campgrounds on Culebra Island. Fee $10./nt. per tent. Highly recommended for safety, facilities and the most beautiful beach. They usually accept walk in reservations in the winter months. Summer, especially summer weekends, are zoo-like. It is not reccommendable to camp here during summer weekends, you probably won't even be able to get on the ferry. you do need advance reservations. Tel. 787-742-0700 or write: Attn: Playa Flamenco, P.O.Box 217, Culebra, Puerto Rico 00775 USA.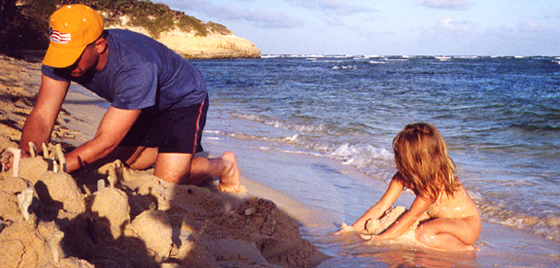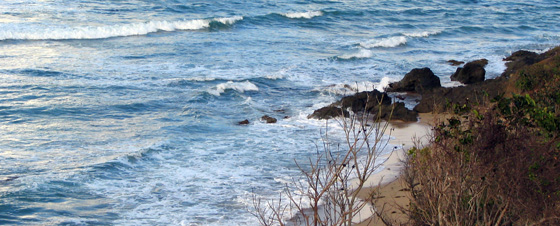 Noteworthy Beaches:

The Beaches of Icacos Cay are fabulous! Gilligans Island in Guanica is another boat destination to fabulous snorkeling and beautiful beach. The beaches around the Cabo Rojo lighthouse are pretty and very scenic.

KAYAK RENTALS behind the Kioskos in Luquillo. . Beaches just East of Arecibo, by lighthouse and 3 miles east of lighthouse. Lovely clean water, sometimes rough. Wide yellow sand beaches. Rincon Beaches. Surfers paradise in winter, hangout in summer too. There are many varied beaches on the northwest tip of PR. Each one has different surfing characteristics. Crash Boats is the most spectacular and a very good swimming beach when the water is calm. Can get crowded. Isabela Beaches. just west of Isabela. Miles of dunes and wide beaches, protected areas and surf. Horseback riding trips, several places to stay. These are some of the isolated beaches people dream about, somewhat rugged beauty. Flamenco Beach, Culebra. A most beautiful beach. Great camping, good facilities. Do Not drink the so called 'potable' water they provide. This, of all beaches, is the one to see. Very white wide sandy beach, utterly clear turquoise water. Picnic areas. Easy to get the 'bus' from town. Take the ferry or fly to Culebra Island. Many places to stay. Call first for a reservation on a weekend or in the summer. The Beaches of Vieques Island. So many beautiful beaches that you need at least a week to be able to enjoy them all. The bioluminescent bay is one of the finest in the world, magical and enchanting, especially by kayak. Navio beach has the most astounding color turquoise water imaginable.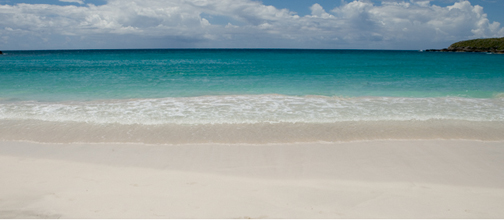 Red and Blue Beach in Vieques are some of the most beautiful and fabulous beaches in the Caribbean! Then there's Silver Beach and Green Beach; not to be missed is Navio Beach! and Media Luna is ideal for children.
| | |
| --- | --- |
| The Beautiful Islands of Culebra and Vieques are more like the Virgin Islands than Puerto Rico. They receive les rainfall and have no rivers that deposit sediment into the ocean . The reefs are more abundant and the waters clearer. | |
Navio Beach on Vieques is very hard to beat anywhere in the world! Photo: Elena