Margarita's' 'Villa Hermosa' Vacation Rental' - 5 bedrooms
what is so special about Margaritas' Villa Hermosa?

This is a marvelous 5 bedroom vacation rental for friends or families to spend a week, there are a variety of large community areas to gather in and places to be alone. living, kitchen long terrace, family room, covered porch, covered pool area. The villa offers extreme privacy and it is safe for children to run around. It's breezy hilltop location is within an easy drive to the beach, a variety of restaurants or you can order meals served at home. Wifi. Maid service available for laundry.Margarita's' Villa with panoramic 360 degree views of the mountains and down to the sea from its hilltop perch. Manicured grounds surround you on this 5 acres estate. This lovely home has more space than you could ever need! Lovely pool has a view too.
Unique in Puerto Rico to be so close to the El Yunque rainforest, yet only a 30 minute drive into Old San Juan, nightlife, casinos and shopping. Completely private.
Luquillo Beach, Golf courses at Rio Mar Resort and Coco Beach Golf course are both just down the mountain ( 15 minutes)
The breakfast nook has a lovely view towards the sea

Almost every room has clerestory windows, high ceilings and skylights. Two of the bedrooms have private baths and are poolside. There is plenty of room, the pool is surrounded by a covered deck.
Two living rooms, a breakfast nook and 5 bedrooms, two with private bath and the other three bedrooms share the hallway bathroom. Two more bathrooms are in the first living room and one off the pool.
Pool has a view and covered deck
Sleeps 10 people comfortably.
2-4 pers $500, 6 pers $600, 8 pers $700 and ten people $800 per night plus tax. Seventh night free!

Rates for up to 5 people are $425 per night, each additional person $50 per night. Additional PR room tax is 9%. Margarita's Villa Hermasa is a self catering rental, maid, chef, masseuse or limo can be arranged (we will put you in contact directly). Sleeps 10 people comfortably.
2-5 pers $425, 6 pers $475, 8 pers $575 and ten people $675 per night plus tax.
Availability: Please see the reservation calendar on www.rainforestinn.com site as it is refreshed daily. If you are looking for reservations for next Christmas book now! Dec. 19th through January 8 rates are $600 per night for up to five people.
Email Bill and Laurie: <rainforestinn@gmail.com>
• Tel. 1- 800 - 672-4992
This villa is managed by the Rainforest Inn across the street. Complete set of photos of Villa Hermosa click here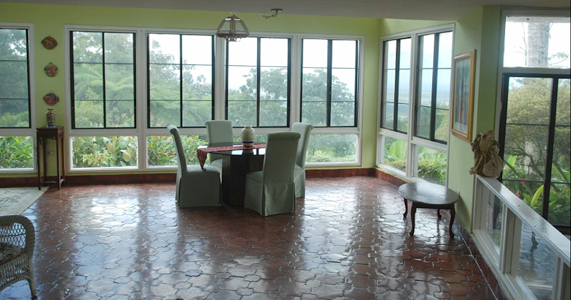 Corner of the breakfast or dining nook, second living room is to the right.
The second living room is set apart from the rest of the house, surrounded by windows and a skylight.
The cozier living room space is next to the kitchen and looks out over the pool
Looking outside from the kitchen
2 of the five bedrooms, each with private bath.
Front entrance, open garage is to the left on this 5 acre estate, completely private.
The entire 5 acres is fenced in plus the entire community is gated.
Chef, Massage and concierge available with sufficent notice.
NEARBY ATTRACTIONS AND ACTIVITIES
Managed by the Rainforest Inn ( just below) see their website for more details
Email Bill and Laurie: <rainforestinn@gmail.com>
• Tel. 1- 800 - 672-4992